Vitrum is Exhibiting at CSC Regina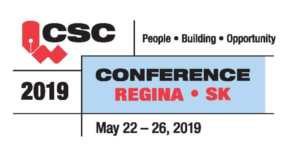 Vitrum Glass Group along with sister company Apex Facade Systems is excited to be exhibiting, once again, at the Construction Specifications Canada Conference.
The conference will take place at the Delta Hotel, in Regina SK, May 22-25, 2019. We would love for you to stop by our display booth on May 23rd and/or 24th to discover some of the innovative solutions that Vitrum can offer with respect to all of these architectural and construction design elements. We will be featuring digitally printed ceramic frit and curved glass at this years booth.
There are several exciting discussions that will be taking place with respect to preventing Curtain Wall Failures, Fire-Resistance, the Road to Net Zero, Passive House and Acoustic Misconceptions, to name just a few of the many seminars.
Please say "Hi" to Mikhala Way Vail, Architectural Sales Representative, and to Michael Zizek, Director of Marketing. The combined glass knowledge between these two is more extreme than a laminated, triple-glazed, low-e, heat-soaked, digitally printed, bird-friendly, IGU.
Come and talk to us about simple solutions or complex ones, we'd love to help!
Learn more here or send us a message using our contact form for an invite to the "Connections Cafe" on Thursday, May 23.