UPCOMING EVENTS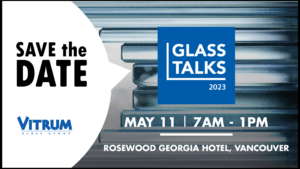 Glass Talks 2023, the annual half-day architectural event hosted by Vitrum Glass Group will be on May 11, 2023.  Please stay tuned for details.

Check out Vitrum Glass Group's exhibit at Zak World of Facades on May 18th at the Paradox Hotel in Vancouver, BC.
Vitrum Glass Group is a sponsor of the CSC Conference at the Westin Hotel in Calgary.  Please visit our exhibit and say hello.