CALGARY OPEN HOUSE – STILL PROCEEDING (updated October 2, 2018)
Snow or no snow, we are still very excited to be launching in the Alberta Market. If you can navigate these roads safely, please join us for Vitrum's Open House and Luncheon at our Newly Operational Calgary Manufacturing Facility
Vitrum Glass Group would like to extend a personal invitation to you and your co-workers to attend our 1st ever Calgary Tour and Open House at our newest manufacturing facility (located just 15 minutes North of the Calgary Airport).
It's official! We're open for business in Alberta! Vitrum Glass Group is excited to officially be considered a 'local' contributor to the Alberta glazing industry. We look forward to offering a multitude of products, reducing lead times, and further supporting the Albertan glazing community through high-quality products and services, as well as through educational seminars and industry promotion and events.
Click the "Register" button below to sign up for this event. Please RSVP by  Wednesday, September 26th.
Let's celebrate this opportunity to further build and establish great relationships so that together we can continuously innovate better solutions for the Alberta glass industry.
So many highlights!!
Exclusive facility tour
Earn 2 AIBC or 2 AAA architectural learning credits by attending our accredited Educational Presentation
Network with numerous Alberta glass industry architects, builders, developers, and glaziers
Relish a frosted beer or beverage refreshment from a wholly different kind of glass
Enjoy a delicious, hearty, and well-curated lunch
If you are interested in attending this event or future events, please contact marketing@vitrum.ca to subscribe.
Event
Calgary Open House
Date
Tuesday, October 2nd, 2018
Time
11:00am – 3:00pm: Open House and Networking
11:00am – 2:30pm: Manufacturing Facility Tours
12:00pm – 2:00pm: Lunch Service
2:00pm – 4:00pm: Architectural Seminar – Earn 2 AIBC or 2 AAA architectural learning credits by attending!

Presentation Topic: An In-Depth Discussion on Architectural Glass

Location
Vitrum's Calgary Manufacturing Facility
291230 Wagon Wheel Road, Rocky View County, AB
Register
via the link below or call 778.800.5487
Register
CALGARY OPEN HOUSE – STILL PROCEEDING (updated October 2, 2018)
Location Maps: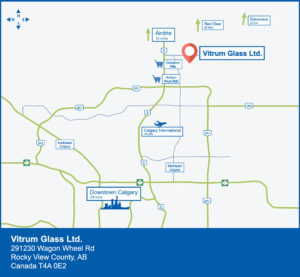 Download Me:  Vitrum Calgary Location Map