GLASS TALKS 2019
Hosted by Vitrum, this half-day, highly informative conference will offer in-depth discussion on some of the most topical issues in the industry today.

It's Official! Vitrum Glass Group is excited to announce the date for this year's Glass Talks event. Be sure to save MAY 2nd in your calendars to attend this half-day conference packed full of innovative and invigorating AIBC accredited learning. This event will once again be held at the Rosewood Georgia Hotel in the Spanish Ballroom (801 W Georgia Street, Vancouver). We hope we'll see you there!!
Registration will be open soon! Click here to receive email notification once registration is officially open.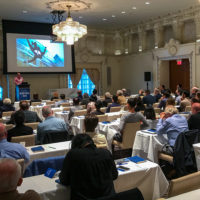 A complimentary breakfast and table top exhibits will open the conference and provide guests with the opportunity to network with primary glass suppliers and others key players from within the architectural design industry. This free event is being offered exclusively to professionals in the building design industry – Architects, Spec Writers, Engineers, Glaziers, Builders and Developers.
Throughout the year we listen to clients as they present project challenges and obstacles. Glass Talks provides a chance to connect with others in the industry having similar issues, and offers the architectural and design community an opportunity to learn about the issues that they've presented to us as the most prevalent or challenging. Our speakers are industry leaders that will share unique perspectives and opportunities to overcome challenges on their specific area of expertise.
Our 2019 line-up will be our best yet, stay tuned for that official announcement.
Check out some of 2018's highlights!!

Topic: Lustre that Lasts, Powder vs Wet Paint;                           Noise Solutions for Densification;                                                  Windows of the Future – Can Windows &                                                             Architectural Coatings                                                                                  Acoustics                                                                        Passive House Amicably Co-Exist?; Passive House
Pre-Register Now!!

Sign up below to be the first to register for this year's Glass Talks 2019 event! Once registration is open, we will send you an email notification to advise you to register soon!