Vitrum Industries introduces the next level of high security glazing with Dupont™ SentryGlas®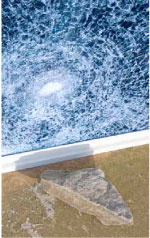 5 TIMES TOUGHER, UP TO 100 TIMES STIFFER
Stronger and more rigid then other conventional laminating materials, SentryGlas® interlayer's offer the ultimate protection from impacts, blasts and forced entry. SentryGlas® is up to 100 times stiffer and 5 times stronger than traditional interlays and offers outstanding post-breakage resistance.  Read more, Watch the Video
EFFORTLESS, 24/7 PROTECTION WITH ULTRA-CLEAR VIEWS
SentryGlas® provides continuous protection to building owners to ensure their buildings, occupants and contents are safe. For all its strength, DuPont Sentry glass comes with outstanding permanent clarity and ultra-clear views ensuring building owners do not have to sacrifice aesthetics for security.
U.S. DEPT OF DIPLOMATIC SECURITY CERTIFIES DUPONT™ SENTRYGLAS® FOR THE PROTECTION OF ITS BUILDINGS
After conducting rigorous tests, the United States Bureau of Diplomatic Security, has certified DuPont™ SentryGlas® interlayer's for forced entry and ballistic resistant protection for glass structures in the more than 400 domestic and overseas diplomatic facilities that it protects. Read more
VITRUM INDUSTRIES, YOUR SOURCE FOR SECURITY GLAZINGS
For more information about SentryGlas® and other security glazing options please contact your customer service representative at 604-882-3513.
Download a copy of our SentryGlas® brochure today for more information
Watch the video and see the amazing strength of SentryGlas®
For more information on our product offerings please contact one of our highly knowledgeable customer service representatives at 604.882.3513 or toll-free at 1.888.391.1166.