Vitrum Celebrates 25 Years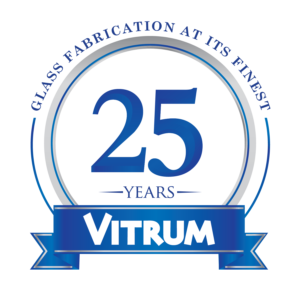 Vitrum Glass Group, western Canada's largest glass fabricator, celebrated their Twenty-Fifth Anniversary on Thursday, June 16, 2022. The event was held at Vitrum's new head office and fabrication facility in Langley, BC, and was attended by close to two hundred architects, glaziers and industry partners, attending both in-person and online via Zoom.
As part of the celebration, Vitrum also hosted Glass Talks 2022 which included four AIBC accredited educational sessions led by glass industry experts, tackling some of the industry's most relevant topics.
Workshops included:
Understanding Smart Glass Technologies, presented by Jason Isackson of Halio Inc.
Understanding Embodied Carbon, presented by Chris Fronsoe of Vitro Architectural Glass
Energy Savings Challenge: Passive House vs Triple Glazing vs Inside Surface Low-E, presented by Bryce Given of Guardian Glass
Vitrum Plant Tour presented by Vitrum Glass Group
Architects, customers, suppliers, and guests were invited to attend an exclusive tour of Vitrum's newest state-of-the-art fabrication facility where they had the chance to see the products they specify and purchase being produced right in front of them. Tour highlights included: Insulated Glass Units, Tempering, Lamination, Custom Glass Fabrication, Silk-Screened and Spandrel Glass.
Guests also had the opportunity to connect with Glass Talks 2022 sponsors: Vitro Architectural Glass, Guardian Glass, ICD High Performance Coatings, Walker, Glass Coatings & Concepts, Assa-Abloy, and Stella Glass Hardware via tabletop displays.
The afternoon provided a great opportunity to meet and network with other professionals in the glass industry, and concluded with good food, refreshing drinks, raffle prizes, and live music provided by Dr. Strangelove band.
Vitrum Glass Group looks forward to continuing to build on their relationships with the local and international architectural community and even more years serving the industry.