Steven Parewyck – General Manager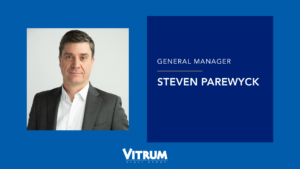 We are excited to announce that Steven Parewyck has joined Vitrum Glass Group in the role of General Manager. In this new role, Steven will oversee all of Sales, Operations and Administration departments.
Steven has previously been in various roles in different segments with the Bekaert Group all over the world for over 20 years. Most recently Steven served as Senior Vice President for Latin and North America, where he was responsible for building regional vision and strategy, transforming change leadership towards higher customer centricity and manufacturing excellence, with focus on increased safety awareness. With Steven's extensive experience and leadership by example, he will be a key partner in the growth and success of Vitrum.