Motivate, Inspire, Tell Your Story; The Profound Capability of Digitally Printed Glass
No matter the size or scope of your building project, if there is glazing, then you have incredible opportunity. Digitally-printed glass is one of the most exciting recent innovations in glazing simply because of its durability, flexibility and wide spectrum of possibilities.
Hospitals, athletics, non-profits, and research facilities are a small sample of the industries that could benefit from the high resolution precision of today's digitally-printed glass. Billboard advertising and imagery has enticed and instilled emotional connections, in mere moments, from those that passed by them for decades. Now glazing is offering this same connection, an opportunity to tell the story of your brand and the ability to captivate visitors in the same way.
Digital print offers nearly incomprehensible design opportunity. It allows the incorporation of highly-complex patterns or design over simple or unique glazing shapes. Precise and high resolution with near limitless color matching opportunities and the ability print oversized imagery on a grand scale round out the aesthetic benefits of digital print.
Aside from pure aesthetics, digital provides additional benefits such as enhanced energy performance and solar shading resulting in a reduced SHGC. Depending on the graphic or print chosen, digital print can also assist with glare control and present itself as bird-friendly design. If you're still set on a simple homogeneous pattern that could easily be printed via screen first look at incorporating various opacities that only digital can provide.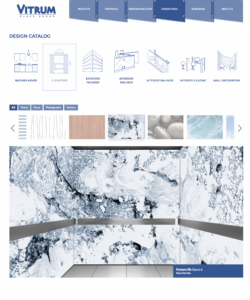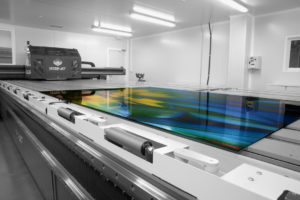 In the case of non-vision glass or spandrel and where a simple repetitive dodt or line pattern is desired both roll-coated and screen printing remains a solution. However, in a high definition VFX technicolor world, what simple repetitive dot pattern will immediately garner visitors emotive?
Once you can truly envision the possibilities, it's easy to feel overwhelmed and uncertain as to how to implement your vision. First try a virtual design application to assist ideation and to sample a variety of graphics and patterns for your type of project.  These applications will also help with the comprehension of your imagery or vision at the appropriate scale and work to ease communication of specific design elements or challenges between stakeholders.
There are a few additional key suggestions when working on a digital-print glazing project.
Select only high resolution (300 ppi) photographs. When working with patterns and drawings supply vector images which can be scaled and printed with no pixilation or quality loss.
Provide vector files in the CMYK color model and photographs in the RGB color model for greater color clarity.
Ask for a digitally-printed glass sample and view the sample from standard recommended distances of 1m and 3m (learn more about standard recommended viewing practices here.)

Nenad Strbac, Vitrum's Digital Print Technician, and Shelby Smithson, Vitrum's Graphic Designer work on a customer's over-sized digital print project.

Ask for assistance from your provider when uncertain. At Vitrum, we have in-house design capabilities, an extensive catalog of design options, as well as tremendous experience working with digital print for anything and everything, from railings to elevators, to exterior facades, over-sized murals, transit stations and pretty much every other glazing type.
Most of all, express yourself and your brand. Connect with your team, your fans, your visitors and your community at a whole new level. This is how to best take advantage of this newest and most exciting era of glass.
To get started and to view all of Vitrum's digital print capabilities visit: https://www.vitrum.ca/glass-products/digital-printing/capabilities.