Integrating Art & Form for Healing at Chinook Hospital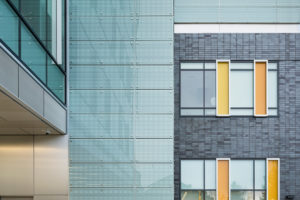 This beautiful glass paneling, by Keith Panel Systems, plays off the ever-changing ambient light conditions to create a playful dynamic exterior. The effect is visually stunning & unexpected, the science behind the proprietary system provides a low maintenance & high R-value, ventilated glass wall panel system.
This recent installation, at the Lethbridge Chinook Hospital, showcases 260 10-mm thick, drilled & tempered glass spandrels spanning 16,000 sf. Each panel was designed to play off the other. Each spandrel was screen printed in "Silver Lining" then roll coated with ceramic frit in "Ice Mist" to create a unique visual effect depending on the weather & time of day.
The integration of art & form throughout Lethbridge's Chinook Hospital's newest addition by Perkins+Will together with Group2 Architects is a trend we will continue to see evolve. Studies refer to art-based interventions that benefit healing. We at Vitrum are excited about the endless possibilities for such interventions, including bent glass, screen printed, and our newest offering, digital printing. Review our products page and portfolio to see all of the possibilities. Learn more about this particular project at Canadian Architect: https://bit.ly/2pJUrIO