Envisioning the Minutiae of Glazing – How Low-e Coatings Affect Color Perception
Low-e coatings affect our color perception in the glass today for the betterment of everyone tomorrow.
Energy conservation and performance are integral to building design. Architects, engineers, and designers carefully contemplate building typography, climate, views, site conditions, orientation, shading devices, and daylighting opportunities before deciding upon a building's overall aesthetic, including the amount of glazing to be incorporated.
Next, thermal performance is reviewed. This is an intense undertaking whereby architects and engineers will perform extensive and exhaustive thermal simulations to ensure their building project meets or exceeds current energy codes.
In order to meet these codes low-e glass is specified within the make-up of the insulated glass units. Low-e glass is formulated with microscopically thin layers of coatings. The composition of the coating(s) is proprietary to each manufacturer but is generally made up of 12 or more layers, which include silver along with a combination of other metal oxides and elements to assist with durability and low reflectivity. The overall thickness of the coating is approximately 300 nanometers or 0.0003mm but can measure as thin as 1 nanometer!
Despite the fact that these coatings are undetectable to the human eye, each coating can affect the perceived color of the glass. The intent of low-e coatings is indeed to reflect light and as such the color of the glass will appear different to the human eye than an uncoated unit or a glazing unit with a different low-e coating.
Take for example, the Wilson School of Design at Kwantlen Polytechnic University in Richmond. This leading edge school has been written up a multitude of times by numerous prestigious architectural magazines. However, one minutiae in the design's overall intent is the simple and understated glazing selections. Five different low-e coatings were chosen to subtly play with the natural light that reflects against it while still achieving the building's overall energy performance goals. The result is a rare and visceral venture that highlights modest nuances in textile against ingenuity and in the face of modernity. A testament to the school itself which aims to be the preeminent design school on the West Coast for fashion, graphics, and interior design.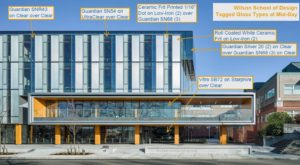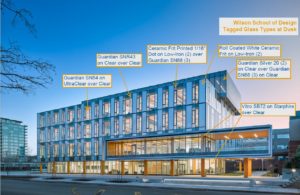 Cloud cover, angle of the sun, direct vs indirect light, and interior lighting will all offer slight nuances to the glazing's color and the overall building's aesthetic. Different adjacent glass types such as spandrels, tinted laminated glass, Opaci-Coat, and printed ceramic frit will affect how the color is perceived. Tinted glass as well as tinted interlayer used within laminated glass lites will obviously affect color but tints do not affect u-values. SHGC and light transmissivity will be affected, which in return will provide glare control and reduce summer cooling demand.
When reviewing samples and making glazing selections remember to view your options optimally to obtain the truest results. For a guide to how to view samples visit: https://www.vitrum.ca/about-us/announcements/5-tips-for-viewing-architectural-glass-samples/
Before energy codes were implemented, designers could simply envision a building and select a glass color or tint to match their chosen aesthetic. It's pretty remarkable how many decisions come into play now that conservation and thermal performance is heavily weighted and largely within the responsibility of architects everywhere.
At Vitrum we understand how overwhelming glass selection can be, balancing between aesthetics, performance and budget. To help you find your glazing product we have a few tools on our website (https://www.vitrum.ca/performance-data) and a dedicated architectural sales rep to help you find the best glass for your next project. Contact us for help on your next project.